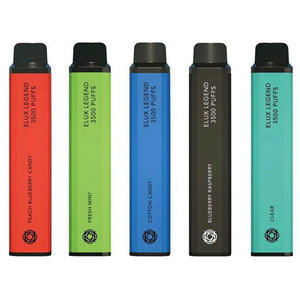 Elux Legend 3500 Puffs
Regular price
Sale price
£12.00
---
The Elux Legend 3500 Puff Bar is quickly gaining popularity in the vaping community due to its sleek design and impressive features. This disposable vape has quickly become a top choice for those looking to transition from smoking to vaping.
Elux Bar is a well-known and respected vape manufacturer that has gained a strong reputation for delivering high-quality products to customers around the world. The Elux Legend 3500 Bar is no exception, with its tighter airflow and carefully crafted design making it the perfect option for smokers looking to make the switch to vaping.
What sets the Elux Legend 3500 Puff Bar apart from other disposable vapes is its impressive 3500 puff capacity. This means that vapers can enjoy their favorite flavors for longer without having to constantly replace their device. Additionally, the device's easy-to-use design and compact size make it perfect for on-the-go vaping.
Overall, the Elux Legend 3500 Puff Bar is an exceptional vaping device that is quickly becoming a go-to choice for vapers around the world. With its outstanding features and exceptional design, it's no wonder why this disposable vape is taking the vaping world by storm.
Elux Legend 3500 Puffs | Appearance & Features:
These vapes come in tremendous bewitching colours and enhance your vaping skills. Elux Bars 3500 has an exquisite appearance and adds charm to your personality. With the vast and exceptional assortments of enticing e-liquid flavours, the device has the audacity to calm your soul. 
Elux 3500 is designed for beginner and avid vape vapers alike. It has a 1500mAh built-in battery that gives you stupendously awesome puffs size. The e-liquid in these devices contains nicotine. So, must try the Elux legend 3500 because it will not disappoint you at all. 
Elux Legend 3500 Puff Bar | Key Specifications: 
The kit has the following attributes to offer:
Puff Capacity: 3500 puffs
Battery Capacity: 1500 mAh
It offers an excellent range of flavours
Gives you smooth vaping experience 
Help you in abandoning your smoking habit 
Charismatic Appearance
Ideal VG/PG ratio
Elux Legend 3500 | Flavours: 
If you are a fan of tantalising and enchanting vape flavours, you have just landed at the right place. The Elux Legend 3500 Puffs gives you exhilarating flavours that you will absolutely cherish. Here is the list of flavours that the device is offering: 
Mr Blue

Blueberry Raspberry

Pineapple (New)

Strawberry Kiwi(New)

Strawberry Energy(New)

Vim2 (New)

Grape(New)

Clear

Blue Razz Lemonade( New)

Tropical Bunch(New)

Gummy Bear(New)

Kiwi Passion Fruit Guava(New)

Berry Lemonade(New)

Blueberry Cherry Cranberry

Fresh Mint ---(New)

Strawberry Peach Lemon(New)

Strawberry Grape(New)

Cola (New)

Lady Pink (New)

Banana Pudding

Fuji Melon